Eco1stArt: Cloud Chandelier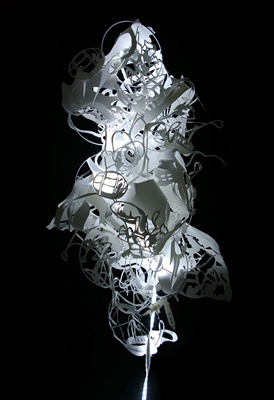 Commercial, residential chandelier designer Jordy Fu creates heavenly display.
Eco1stArt
discovered 59 months ago
Related Blogs
Daily Obsesh - Block Lamp from Design House Stockholm

What a great feeling to re-decorate you home, as things can get slightly stale year after year. Wouldn't it be nice to walk in the door one evening after work, and be pleasantly surprised at the freshly painted walls, new cozy sofa and gorgeous curtains? If an all out overhaul isn't in the budget, we suggest just a few new pieces of decor to give the room a whole new feel.One of our top picks is the Block Lamp from Design House Stockholm. A true design classic since it's launch in 1996, the block lamp is inspired by industrial glass bricks. The bulb is encased in two heavy glass blocks and can then be set on the floor or a tabletop. The lamp is offered with a red, black or white wire and gives off the perfect ambient glow. It's also sure to spark up plenty of conversation!Where to Buy - HornePrice - $120.00Who - Melimeli was the first to add the 'Block Lamp' to the Hive.

Bring The Great Outdoors Right Into Your Home!

by Ida Hsiang

Nature is truly amazing with beautiful florals and foliage, sturdy rock structures and the most amazing animals and creatures. Many of us love the great outdoors and enjoy reveling in Mother Nature's creations. But with busy schedules and instances of poor weather, not all of us can find time to spend outside. An easy solution? Bring the great outdoors into your own home! I'm not suggesting digging a pond in the middle of your living room, or luring in small woodland creatures into your kitchen. A few unique and beautifully made home accessories, like dinnerware, lighting and small furniture, that mimic Mother Nature's talents are all you need to make your living space a nature loving haven! Check out my slideshow for examples!