E2 for CoutureLab - Ivory Dior Couture Dress: CoutureLab.com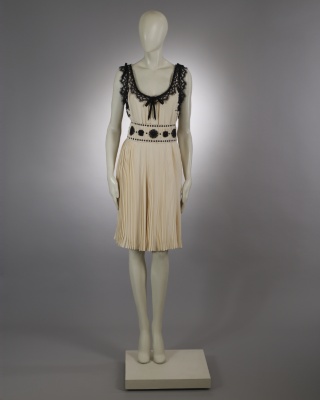 Ivory Dior Couture Dress E2 for CoutureLab Reconditioned Dior couture pleated dress £1,935 €2,515 (approx) $3,870 (approx) Product: CL2103 Size: Medium-Large Flawless in its construction and embellishment, this reconditioned vintage dress is a perfect example of E2's ability to revive forgotten couture. The ivory pleats are soft yet structured, causing a gentle flare at the hem. The top has been embroidered and embellished entirely by hand, with antique lace, silk flowers and studs. The panel belt features the same intricate pleats (zoom to see the detail) and black floral decoration, graduating toward the back and fastening with a silk ribbon. The dress is lined with ivory silk. This is a one-off unique piece and cannot be reordered.
artiststundra
discovered 103 months ago
Related Blogs
Daily Obsesh: Colors and Metallics

Plain figure-hugging mini skirt is probably one of the favorite classic wears. It can be coordinated in different styles to make you classy, sexy, or cute. Our favorite pick is this Ruba Skirt from BCBGMAXAZRIA with a little bit of added spice and fun. The mix of bright and cheerful color bands and metallic stripes create a unique trendy look and make this skirt glow. Classy fit in a contemporary design helps to style a traditional yet creative look. On-seam hip pockets even adds functionality to this lovely skirt.

The sun is coming out and we are getting excited to get out difference versions of sunglasses we own. Going on a sunglasses hunt is always fun as there are so many different shapes, colors, and sizes. Our favorite pick today is this Silver Metal Frame Sunglasses from Quay Eyewear. Circular lens frame is finished off by the angular corner giving it a retro and chic cat-eye look. With the reflective metallic coated slim lenses that go across the circular frame, this sunglasses is looking cool and vintage inspired. Perfectly put together with lightweight metal frames and adjustable silicone nose pads for added comfort.