Dragonflies Digital Collage Sheet CG456 15 inch by CobraGraphics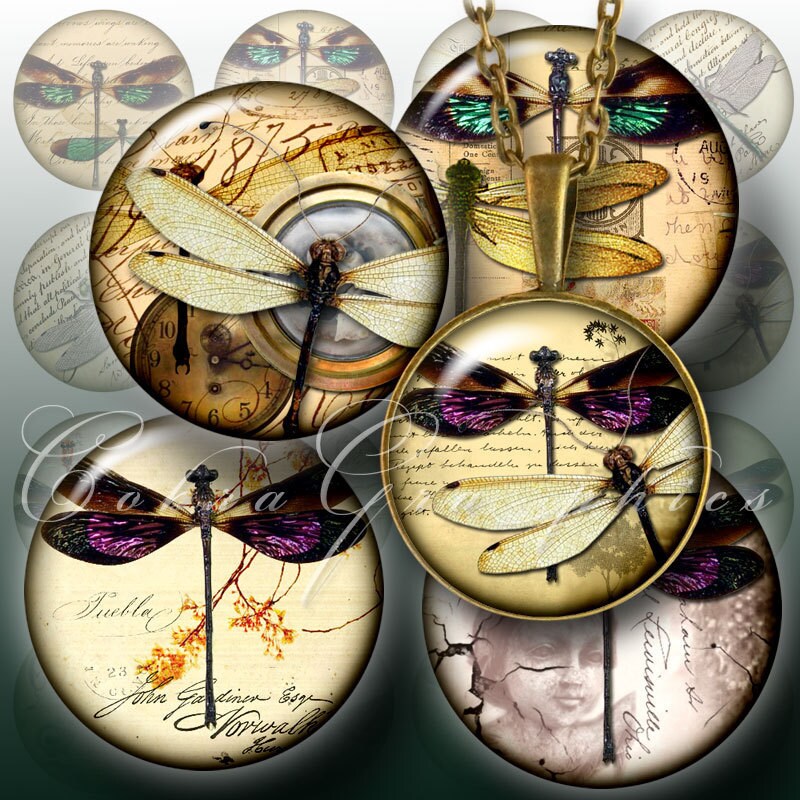 Dragonflies on vintage backgrounds - digital collage sheet for you to download and print as many times as you want, and use for your crafting projects: jewelry making - glass cabochons, resin pendants, bottle caps, earrings, rings, charms; card making, magnets, stickers, scrap books, hang tags, etc.
zmeya
discovered 60 months ago
Related Blogs
Show Your Funky Side This Halloween With Indie-Designed Jewelry!

by DIY thing

As Halloween quickly approaches, we know you are thinking about what to wear to your costume party. This year, steampunk is oh so hot. Brooklyn Indie Market's Steampunk II is the place to pick up some indie designed pieces this weekend. You will find indie brands Rocklove, Steamed Punk Laboratories, Once Lost and 19Moons among others. Show off your new funky look at the after party at The Way Station -- Brooklyn's first steampunk bar and performance venue. If you can't make it to Steampunk II this weekend, we did a little surfing and found some great Halloween-themed steampunk jewelry. Check out our slideshow for some of our top picks!

8 Ways To Have A Fun Girl's Night In Without Spending A Ton

Now matter how often you tell yourself that you absolutely need to officially act on that saving money kick you've been ambitiously planning for months, somehow by the end of the week you find yourself deeper in the hole than you hoped. Even when you try to behave financially and opt for a thrifty Happy Hour in place of your more extravagant night-out plans, somehow your wallet comes home empty by the end of the evening! So if over-spending is inevitable once you step foot out of the house, is the only solution to simply lock yourself up in your house and count the tiles in your ceiling? No way! Sure, desperate times call for desperate measures, but life as a hermit is never the answer! Believe it or not, plenty of fun can be had right under your own roof, especially when you involve the right company! From do-it-yourself photoshoots, movie marathons, and a homemade potluck dinner, you may not have fun for free exactly, but you'll definitely save money and gas while staying comfy and getting the chance to tap into your creative side, too! Click READ MORE for the complete list of fun night-in ideas!