Dorothea's Closet Vintage Suit 60s Dress Suit GREEN Iridescent Silk TOP Jacket SKIRT HandbagDorothea's Closet Vintage Suit 60s Dress Suit GREEN Iridescent Silk TOP Jacket SKIRT Handbag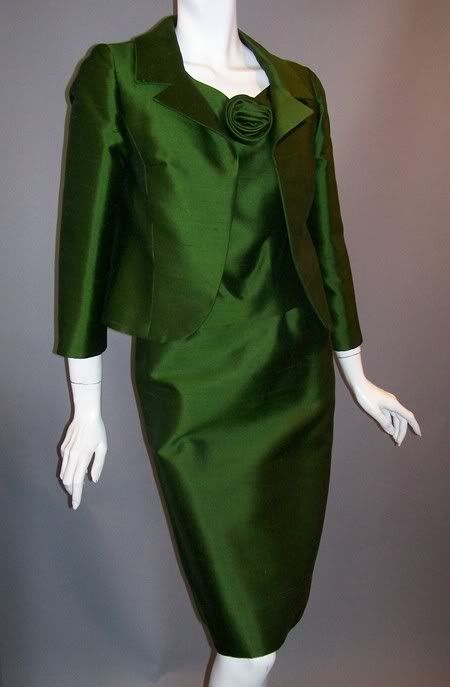 Elegant shimmering green silk 3 piece 60s dress suit with matching handbag. Pencil skirt, three quarter sleeve jacket with slightly nipped waist, sleeveless bodice with rosettte at neckline. Bodice piece zips up back with metal zipper. Labeled "YOUNKERS French Room". Comes with dyed to match chain strap green evening bag. Click picture for more images. No flaws.
dgenevieve
discovered 94 months ago
Related Blogs
Many people shy away from metallics during the daytime and save the glitters for the evening. However, it is never too early to add a little bit of dazzle to your daily outfit. That is exactly why we love this white jacket with gold lining on the sleeve that is featured in the Girl's Life magazine. Simple and chic white fitted jacket is accented with sparkling metallic gold on the sleeve, making this jacket more attractive. Match it with simple or soft colored bottom to complement the bright top, or go all out with stylish prints or little bit more sparkle.

Bag of the Week - Soft Slouchy Crescent Bag

by Susan Yara

Having a super-duper soft, slouchy leather purse is kind of like having a cuddly teddy bear or your favorite blanket as a child. You can love it, comfort yourself with it, and it has to go everywhere you go because, well ... it's your binkie. There's no denying the warm feeling you get inside knowing it will always be by your side. So if you're in the market for a friend, then we recommend this supple blue baby available at NeedSupply.com. The creamy color of the leather looks just as soft as it actually is, and the best part? You won't even spend $50 for it!So go ahead, indulge yourself. Where to Buy - NeedSupply.comPrice - $42.00Who Found It - SusanY was the first to add the 'Soft Slouchy Crescent Bag' to the Hive.