Donna Karan 894910 (Mars Red Glitter Fabric) - High Heel Dress Shoes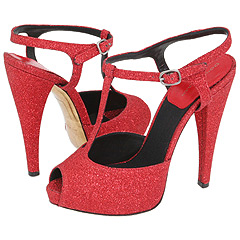 Give your life a stylish spark! The color red has been known to apprehend attention and elicit exciting emotions. Pursue and provoke passion wearing the strong spectrum of these thrilling t-strap sandals by Donna Karan™! Glitteringly gorgeous leather upper. Peep toe. Side buckle closure. Leather sole. The 3/4" platform makes the 4 1/4" heel feel like 3 1/2". Made in Italy. 4 1/4" heel.
Ylorah
discovered 47 months ago
Related Blogs
No one can stop the shoe obsession of fashionistas, or just any women. But this YANA from Brian Atwood can certainly satisfy the cravings for high heels this spring. This bright and sparkly single soled heel is a unique find. Scalloped chain edges the sides of the sandal creating a fun and luxurious design. Blue shagreen shade makes this shoes both refreshing and mysteriously seductive. You will find this shoes attractive and unique at an any angle you look from.

Shoe of the Week: The J. Crew Loafer

Beyond obsessed with these modern takes on a classic! In electric poppy or gorgeous 24 karat these loafers are timeless! Click below to see them in all their patent glory!