D&G Women - Trousers - 3/4-length trousers D&G on YOOX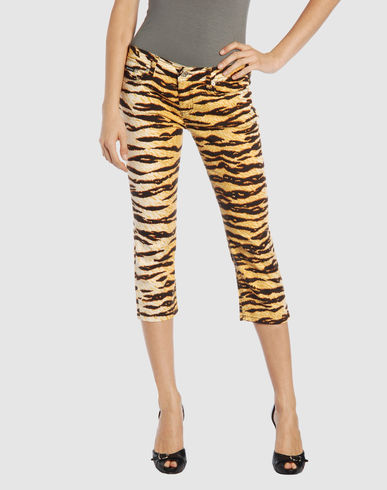 3/4-length trousers Stretch - Gabardine Leopard design Belt loops Button, zip fly closure Five pockets Studs - Rear logo Composition: 98% Cotton, 2% Elastane
karramba
discovered 100 months ago
Related Blogs
Have you been seeing spots these days? This popular print is making fashion waves on the runway and the streets during Fashion Week. We're embracing this cheerful print and showing you how to spot it yourself. Take a break from your floral dresses and Parisian stripes. This Fall you'll have a new pattern in your closet to boast about.What you'll need:Pair of solid color trousers.Fabric paint.1 inch round sponge brush.(if you don't have a round stamp you can make your own by cutting out a small round piece of cardboard.) Step 1 - Dab your brush in paint so that's it coats the bottom.Step 2 - Lay your pants flat on a hard surface.Step 3 - Holding your brush vertically apply your paint spots in the pattern you desire.Step 4 - Repeat until your pants are covered in spots!

Celeb Poll - She Wears The Pants!

by Ida Hsiang

There's no question about who wears the pants when it comes to these leading ladies! A girl in trousers is telling the world that she is confident, chic and means business. With all the styles and designs available, a good pair of pants can be worn on stylishly casual weekends and can also take the place of a fancy dress. These Hollywood starlets know what we're talking about! We've got four hotties in pants and we're asking you to tell us who you think wears the pants in this poll! Amanda Seyfried keeps it chic and simple in a pair of cropped tan trousers and sleek black pumps, quilted purse and tank. Hilary Duff looks right on trend in a pair of wide leg jeans, oversized earrings and a vintage-look leather satchel.Transformers star, Rosie Huntington-Whiteley, keeps it streamlined and sexy in a fitted black vest and matching skinny leg pants with strappy silver heels. Jessica Biel makes the classic white blazer and black pant ensemble edgier with leather skinny leg pants and matching leather flats.So who's it gonna be? Take the poll below!