Daddy O's Stop Staring Red & Black Polka Dot Bombshell Dress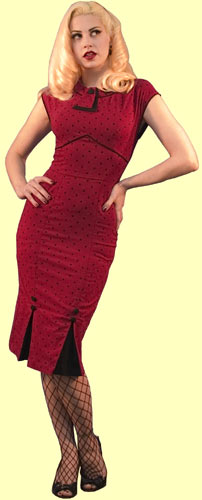 Wow! This is a head turner for sure! You are sure to look like a bombshell in this dress! This deep red dress with black polka dots is fitted all they way from top to bottom; the stretch in the fabic assures it will hug all your curves. Dress also featues a back zip and black accents.
cherryblossom
discovered 126 months ago
Related Blogs
Spring time weather is so inspiring and always makes it so fun to pick outfits. You can get creative with thin layers, vibrant colors, and crazy prints. That is exactly why we love this Printed Jersey Tunic from Donna Morgan. Combination of the color block with flower prints gives so much character to this dress. It can not get more interesting than the black, purple, and blue flowers on block of white, black, blue, and purple. Shift Silhouette and beaded round neckline adds classiness to this fun and spontaneous dress, making it a perfect contemporary spring time dress.

Gift Guide Pick: Kate Spade iphone Case

My favorite new accessory is this Kate Spade iphone case! Dress up your digits in a chic gold, polka dot pattern that you'll be able to spot at the bottom of your bag. The classic designer does it again, creating the perfect tech ensemble to gift yourself or to stuff in a stalking.