Crocheted Aster Scarf - Anthropologie.com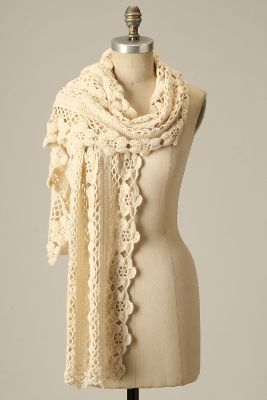 Wreathe your neck with a handspun chain of autumnal daisies.
soapyme
discovered 91 months ago
Related Blogs
by Geri Hirsch

With fall quickly approaching we've got one thing on our minds: how desperately we still need a tan layers, layers, layers. Piling on piece after piece can be a true fashionista-science made much easier with really great scarves. Queue Lemlem.

Daily Obsesh - Knitted Crochet Shell Dress

by Ida Hsiang

It's not a dress. It's actually a top. And we're not sure if this is something lost in translation from our English counterparts from across the lake, but we do know that it's a perfect piece for summer. The knitted crochet shell dress (ahem ... top) looks like something your grandma may have made ... if granny is a stylish, boho-chic gal! The white crochet is so classic summer and this top is versatile enough to pair with denim cut offs or as a little added coverage over a skimpy maxi dress. Dress it up, dress it down ... just get this 'dress' into your summer wardrobe!Where to Buy - TopshopPrice - $92Who Found It - Idabone was the first to add the 'Knitted Crochet Shell Dress' to the Hive.