Contrasting Halves Dress - Anthropologie.com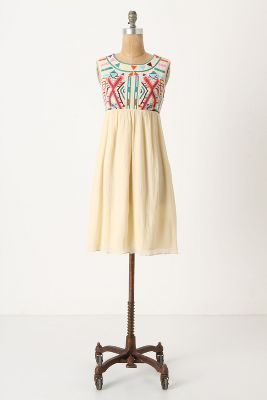 Eye-popping embroidery courses over the bodice of Gryphon's shift, while a simple swathe of ivory cotton hangs below.
soapyme
discovered 25 months ago
Related Blogs
Karmaloop Shows Off Their Summer Neckwear!

by Ida Hsiang

When the weather is hot, the hemlines are high, and it's hard to handle any form of top that isn't sleeveless, sometimes it gets difficult to maintain your spring steeze. Here at Karmaloop we have everything you need to add the perfect finishing touch to your summer outfit, without breaking a sweat. Just throw on one of our dope necklaces and you're good to go! We're digging the long drapey necklaces with awesome accent pieces that we've been getting in this season! For a classic, but still eye-catching look try on The Bow and Pearl Necklace in Ivory! For more edgy looks we're loving The Vintage Waterfall Necklace by SOOS Rocks, and The Bullet Necklace in Gold by Cardboard Robot. And if you're looking for the perfect finishing touch for your badass beach look, look no further! The Short Chain Cuff Necklace is the perfect statement piece. And be sure to check back at Karmaloop.com for even more awesome necklaces!

Hot In The Hive: Customizable Canvas Necklace

I've never really been into jewelry-making crafts, save for that small collection of ratty friendship bracelets I've made over the years at summer camp, but this Customizable Canvas Necklace is igniting a spark of creativity I never even knew I had! Each necklace (either silver or gold-plated) comes with a needle and coordinating thread so you can "embroider" your own pattern, icon, or message. Don't have any necklaces to match your new top? Make one! Can't wear that "Bobby" necklace that your old boyfriend gave you because, well, things with Bobby didn't quite work out? Well, this necklace lets you start over and brag about your new guy in just a few stitches. Of course, this requires that you actually have the time for a mini art project every time you want something new, but it's certainly a cool idea!Price: $80 for silver, $95 for goldWho Found It: xgalexy was the first to add the Customizable Necklace to the Hive.