COACH LEATHER PIECED LARGE GARNET - Garnet Handbags - COACH - Macy's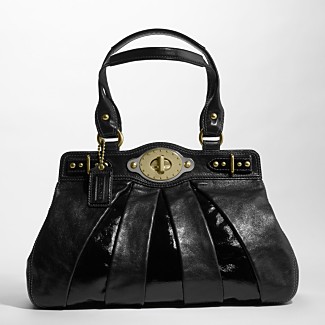 COACH LEATHER PIECED LARGE GARNET * 14 1/2" handles with 8 1/2" drop * 17 (L) x 10 1/2 (H) x 6 (W) * Belting detail * Cellphone/multifunction pockets * Center zip pocket * Crinkle patent leather trim * Currently, Coach product bought on Macys.com cannot be shipped to Hawaii, US Territories or APO/FPO addresses * Fabric lining * Feet to protect bottom from scuffing * Interior zip pocket * Leather and patent pleated leather * Oversized turnlock with studding detail and hidden snap-tab closure * Ring to clip an accessory or keyfob * Enjoy FREE SHIPPING on orders of $150 and over Shop the latest COACH LEATHER PIECED LARGE GARNET online at Macys.com. Style No: 13911
artiststundra
discovered 56 months ago
Related Blogs
Coach Classics Collection at Net-A-Porter.com

Starting today the Coach Classics collection is exclusively available on Net-A-Porter.com. These classic styles were introduced by Coach in the 1970's and have been brought back from the archives. They look perfectly on trend with today's fashions."The Coach designs from this era were seminal in defining our approach to great American style," said Reed Krakoff, President and Executive Creative Director for Coach. "Heritage is our hallmark, so we're pleased to reintroduce these iconic bags.'The Coach Classics include (photo at top, L to R) the Madison Satchel, the Stewardess Bag, the Duffle, the Shoulder Purse, and the Field Bag. You can get them in British Tan, Mahogany, Navy, Red, and Black. Prices range from $300 for the Shoulder Bag to $500 for the Field Bag.I can't wait to get my hands on that adorable red Shoulder Bag! It totally takes me back to my teens.

Add Some Bling To Your Bag With A Purse Charm!

Charms have evolved -- from bracelets to flip flops, they're the cutest way to add a bit of summer flair. And as addictive as the tiny jewels are, your bag certainly shouldn't be devoid of a little glam. Both flashy and adorable, the charms, larger than your standard jewelry charm, make more than a fashion statement, for they double as a key-latcher so your purse and keys aren't far from each other on your way out the door. Even save yourself the trouble of switching handbags to match your outfits, or even to switch up for the seasons, and simply change the charm! Got friends with the same taste great taste in handbags? Being able to identify your bags without the need to search the contents could make these little trinkets a viable necessity! While there are plenty of adult reasons for you to make a bag statement with a charm, some of the enamoring ornaments are a reminiscent of childhood figurines. Bring back a little fun to your bag with a purse charm and check out some favorites in this slideshow!