Clutch Purse Cell Phone Case Purple Rose by KCDragonfly on Etsy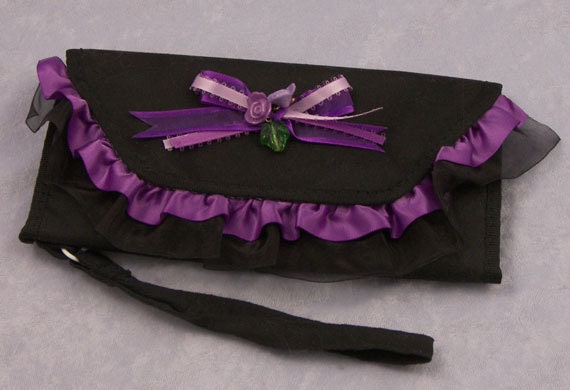 Dimensions - 8" wide x 4" tall, strap 7" long. Beaded rose and leaf accents. The purple satin trim and ribbons are from our Purple Goth Lolita Parasol project and thus match to it perfectly. The inner edge of the lace is hidden with hand-done embroidery on the inside flap so there are no unsightly seams showing. What's not to love about a compact clutch that can hold all your money, change, credit cards and a full size Android cell phone? The phone fits perfectly in the zippered change pouch. It's wonderful having it so handy and not buried at the bottom of a bulky purse – especially when you have only a few seconds to find the darn thing to answer those incoming calls! And the pretty accents fit any formal or everday occassion you need to go to...weddings, work, fun, dinner and a movie.
kcdragonfly
discovered 26 months ago
Related Blogs
DIY Valentino Inspired Studded Clutch

With so many designers featuring studs in their collections it was a no brainer which Italian accessory we would be getting pricked by this week. Check out how to create a street style accessory favorite below!

Bag of the Week - Foldover Clutch

by Susan Yara

Knock, knock. Who's there? Orange. Orange, who? Orange you glad to have a bright, bold foldover clutch rather than an over-sized, dingy bag to carry around tonight? We sure are. You see, there's a necessary art we think every fashionista should learn when it comes to picking the right bag to wear with an outfit. Some are work appropriate, while others are meant for those nights out on the town ... and that's it. Luckily, this orange leather clutch takes all the thinking out of the matter - take it to work or happy hour. Either way, it will look great and make you happy every time you reach into it to grab your lipstick or phone. Where to Buy - NeedSupply.comPrice - $130.00Who Found It - SusanY was the first to add the 'Foldover Clutch' to the Hive.