Boy Birth Announcement Thank You Blue by missbellaexpressions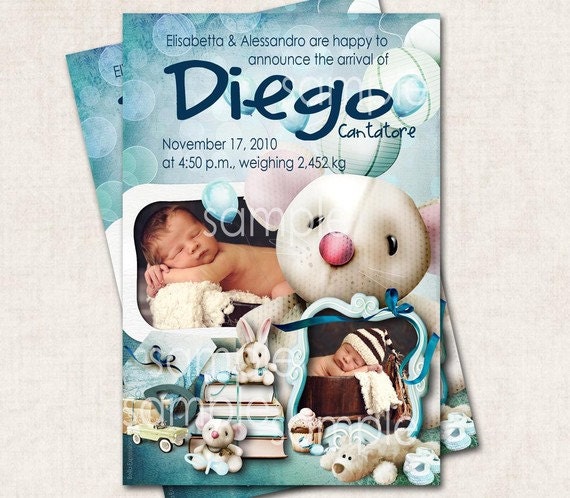 Let me make things easier for you now that you are busy with the new wee one... with my custom photo card service! Mountains of squishy
lissylee77
discovered 13 months ago
Related Blogs
Daily Obsesh - Hello Kitty Puzzle

by Lisa Topiol

As a little girl I was in love with Hello Kitty. I had pencils, pens, stationary, purses, keychains, even a trashcan! Basically, when I got older my obsession lessened and eventually disappeared, but there's still a special place in my heart for Hello Kitty and her cute, mouthless smile. To this day, when I come across something from Sanrio, I fall instantly in love. I love that Urban Outfitters has this adorable Hello Kitty Puzzle Head for sale because it's a great piece to remind me of my childhood and looks great in an office, or to entertain younger guests who visit your house. This puzzle is an awesomely cute stocking stuffer or gift for a friend and anyone who spent their youth obsessed with Sanrio will get a kick out of this adorable 3D puzzle! I love the use of pink and white, and Hello Kitty seriously looks adorable! Sure, I don't really need something like this for my house, but I know I must have it! This little kitty is going to become your instant computer desk buddy!Where to Buy - Urban OutfittersPrice - $18.00Who Found It - Ltopiol was the first to add the 'Hello Kitty Puzzle Head' to the Hive.

Custom Gifts For The Mom Who Has It All

by Ida Hsiang

Mother's Day is right around the corner again and if your mom is anything like my mom, you're going to need to start planning a good gift early. My mom is the greatest, but she is incredibly hard to shop for. Every year, I'm left scrambling for a unique gift that she'll use and like and doesn't already have. It's no easy feat so I'm starting early this year and what is more unique than something that is personalized and monogrammed? Forget 'World's #1 Mom' mugs and screen-printed sweatshirts and get something really individual and interesting, made even more one-of-a-kind with mom's initials or name included in it. Click on the slideshow for some unique, customized Mother's Day gift ideas and surprise your mother with something she'll love!