Betsey Johnson Ombre Chiffon Strapless Dress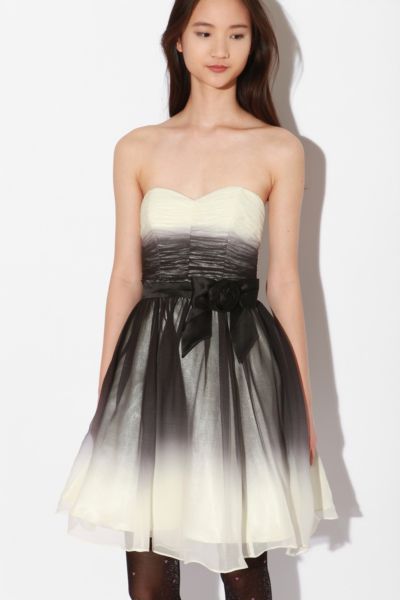 Light and airy party dress from Betsey Johnson in delicate ombre-dyed chiffon. Strapless with a fitted bust trimmed with ruched pleating and flared through the full skirt. Trimmed with a satin ribbon along the high waist and topped with a bow and rosette detail at the hip. Fully lined; structured bust; ruffle underlay for a full silhouette; hidden zipper closure.
soapyme
discovered 30 months ago
Related Blogs
The Perfect Dress For Your Summer Soiree

by Ida Hsiang

Whether you're a guest at a summer wedding or rubbing elbows with your fancier friends, there's bound to be a summer soiree (or two) in your near future. The nights are still balmy but those cute maxi dresses and short shorts that are so sweet for day may be a little too casual for night. A few tips while looking for the perfect party dress for summer? Try light, floaty fabrics or draped silhouettes for a more chic vibe and opt for bright colors or pretty patterns to keep your ensemble looking summer fresh. Keep it classy by balancing out your outfit - strapless necklines give longer hemlines sex appeal and cute cap sleeves help keep a mini from being a little too revealing. Check out the slideshow for our picks for summer party dresses that will be sure to make you stand out in the crowd!

by Ida Hsiang

Add a splash to your summer whites! Dip-dying is a pretty and eye-catching way to give your summer look a soft wash of color and to add interest to your ensemble. Or give your dip-dyed style a more ombre approach with pieces that feature multiple hues! Reminiscent of a summer sunset, this trend that's taking over is perfect for all these hot days/ balmy night activities. Give your tank top or tee a boost of style or really stand out in the crowd with a dip-dyed maxi skirt or dress. A full head-to-toe look a little too much? Try a great pair of dip-dyed denim cut-offs or a breezy, lightweight scarf to try out this trend in small doses. Take a look at our fave picks that are to 'dip-dye' for by clicking on the slideshow!