Barking Mad Wallpaper - Anthropologie.com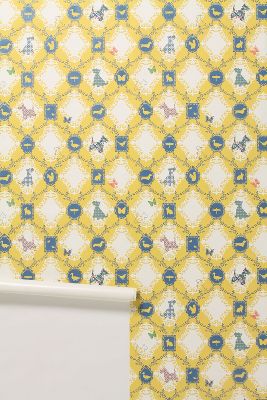 From afar, a traditional pattern emerges; up close, however, it's a dog's day. Scottish terriers abound in all sizes and patterns, lending levity to this cheeky pattern. An Anthropologie exclusive. * Sure-strip backing allows for paste-free application and easy removal * Screenprinted paper * Roll: 27'L, 27"W * Covers 60.75 square feet * USA
dgenevieve
discovered 96 months ago
Related Blogs
Magimix Vision Toaster - Perfect Toast Every Time

by Ida Hsiang

Imagine your breakfast with a perfectly toasted bagel, a little strawberry cream cheese and a cold glass of orange juice. Nothing toasts like a Magimix by Robot-Coupe Vision Toaster. Made from durable stainless steel, this toaster is unlike any other. It features glass viewing windows that allow you to watch the toasting process and achieve toasting perfection. Four quartz heating elements, four preprogrammed heat settings and extra wide slots make toasting all different types of bread effortless. The bagel setting toasts just one side, as a bagel should be toasted. Other settings include toast, reheat and defrost. Choose a setting or simply push the stop button when your toast is browned just the way you like it. Built to last for 30,000 uses, you'll never have to purchase another toaster again. The Magimix by Robot-Coupe Vision Toaster is available at Williams-Sonoma and retails for around $250.

Bag of the Week - Nomad Scarf Handbag

Ethnic inspired prints are making a huge statement this summer from ikats to batiks, animal prints and serape stripes. But, if these wild, and often, colorful prints are a bit bold for your taste in clothing, then why not catch the wanderlust spirit with a fabulous fabric handbag?Lucky Penny's Nomad Scarf Handbag is a top pick here at the Hive. This spacious carryall is made from a printed silk scarf bearing zebras and sketched leaves. In a bright, of-the-moment coral, the bag is detailed with leather straps, a magnetic closure and three roomy inner pockets. So, if solids are your go-to look, this handbag will certainly take a pair of flares and billowy white blouse to the next level. Yet, if wild is your way, then we suggest mixing this prints with another and really getting in touch with your inner nomadic spirit!Where to Buy - AnthropologiePrice - $88.00Who - Melimeli was the first to add the Nomad Scarf Handbag to the Hive.