Atrament Maxi - Anthropologie.com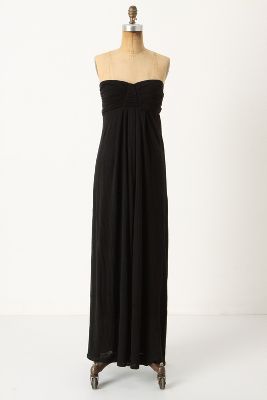 Elegant details like a ruched bodice, an empire waist, a toe-skimming length - we could go on! - are rendered in heat-loving linen. By Bordeaux.
soapyme
discovered 38 months ago
Related Blogs
Daily Obsesh - The Hard Rock Maxi

Summertime is full of things to do and places to be seen. So when you have such an active social life, you go through outfits that much faster. Do you find yourself in front of your closet looking for an outfit to jump out at you, and it seems like nothing is there? Well instead of pulling hairs trying to piece together an outfit, make your life easier by throwing on a dress like the Hard Rock Maxi by *LA Boutique. This piece is a great option with the simple blue and white stripes. While the dress has a lot of leg coverage, the combination of the halter ties and the deep plunging neckline will still allow you to show some skin and soak up the rays. Its perfect for a day at the beach, boardwalk, or lunch with friends!Where to Buy - KARMALOOP Price - $47.00Who Found It - Brittani was the first to add the Hard Rock Maxi to the Hive.

Daily Obsesh - J. Crew Metallic Linen Sweatshirt

Here at the Hive, we're always in search of the perfect blend of casual comfort and classic glamour. It's certainly not an easy quest and more often than not, an item is either too much of one and not enough of the other. Because it's so rare that any of us have a reason to get all decked out in glitz, any piece of clothing that successfully marries daytime and evening is a piece we want in our closets!Enter J. Crew's metallic linen sweatshirt. In 100% pure linen, this gorgeous sweatshirt has a foil print coating which gives it a subtle sparkly sheen. Slouchy and comfortable, with a hint of glam, this pullover is a must-have piece for any fashion follower's wardrobe. Who ever thought to use the word 'elegant' when describing a sweatshirt?Where to Buy - J. CrewPrice - $68.00Who - Melimeli was the first to add the J. Crew Metallic Linen Sweatshirt to the Hive.