Anthropologie - Japanese Iris Kimono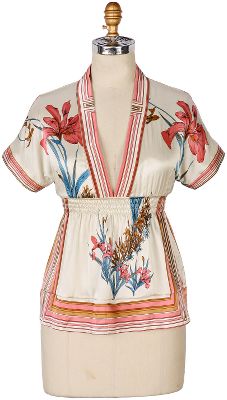 TamaraStaser
discovered 123 months ago
Related Blogs
I love spring's trend of wide-leg jeans and pants. To pull off the look, the perfect blouse is in order. Soft, feminine and flouncy tops work well and nothing is hotter than floral for spring. Make looser tops belted to make them fresh or find ones that will show off your waistline! I love this Nature Collage Blouse ($198 at Anthropologie) for it's vibrant yellow color and floral/nature theme.Check out more floral blouse faves by clicking over to our friends at Coquette!

Silky Tops Are Sheerly Amazing!

by Ida Hsiang

I'm not quite sure who said it, but some wise fashion guru once proclaimed that "fashion is all about eventually becoming naked". To be honest, I couldn't agree more. There is nothing more liberating and comfortable that wearing little more than your birthday suit. Unfortunately, we are not all Lady Gaga (as much as we would like to be) and parading around in ensembles that barely cover is more likely to get you arrested than praised. This season, though, you can rock the semi-nude look with tops and blouses made of sheer chiffon and gauzy silks and still be appropriate enough to show yourself in public. With anything from billowing bloussant tops to more structured button-downs getting the semi see-through makeover, you have a variety of ways to wear this latest trend. Pair a draped, voluminous top over a pair of cute shorts or sleek leggings, or tuck a sheer button down into a simple summer skirt. Adding a cami underneath gives extra coverage, or if you're really feeling bold, try pairing the translucent tops with a pretty, brightly colored bra underneath for some peek-a-boo sex appeal. Click on the slideshow to see some of my favorite sheer chiffon tops and work one into your daily ensemble now!