Adorn Wand of the Fae by leighswiccanboutique on Etsy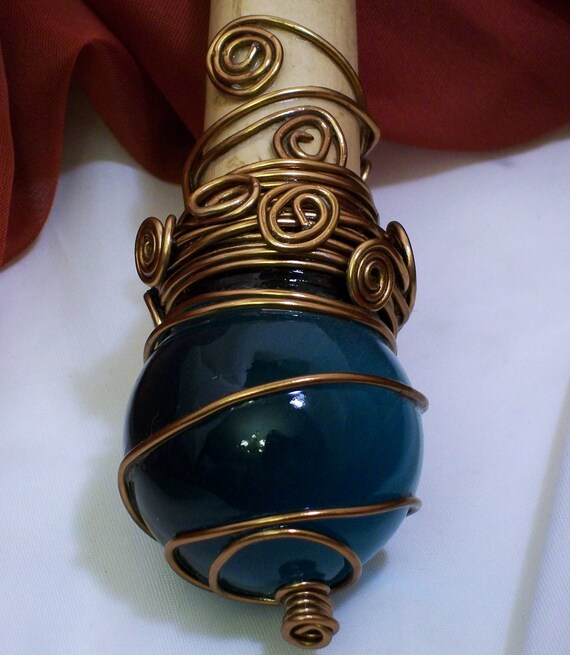 This Beautiful Wand is handcrafted from Lucky Bamboo. Bamboo will bring you Protection, Luck, Hex-Breaking, and help aid you with your wishes. This wand Features a Beautiful Shimmering Blue Opal Sphere wire wrapped with thick Copper tone Wire. Blue Opal is the ultimate stone for all forms of wishes, for entering the world of the fae (fairies) and for seeing beyond the immediate physical reality to the wonders within nature and life. A luck bringing stone, and a stone of inspiration which enhances the imagination and creativity. An emotional soother that helps to realign one to their spiritual purpose. The Core of the wand contains Green Opal, and Feathers. The Green Opal is beneficial for cleansing and rejuvenating. Promoting emotional recovery and aides relationships. It has the ability to filter information and reorient the mind, thus giving it a better meaning to every day life, and bring about a clearer spiritual prospective. The feathers in the Core is to represent the Element of Air, with the qualities of intellect, creativity, inspiration, new beginnings, travel & freedom. To hold these items in place inside the Wand's Core it is closed with a lovely Red artistic lamp work bead. Wrapped along the bottom of the wand you will find hardened Sued encased with Amethyst, Peridot, and Tanzanite. Amethyst will help aid you to meditate and help calm. It works in the emotional, spiritual, and physical planes to provide calm, balance, patience, and peace. It will increase spirituality and enhance intuition and psychic powers of all kinds. Peridot is A visionary stone that connects us to our destinies and to an understanding of the purpose of existence. It can assist us to visualize not only the ultimate peak of physical but of spiritual continuation as well. Tanzanite is a stone of magic that helps with spiritual awareness and psychic insight while transmuting negativity. This wand is approximately 14 1/2" long. It has also been infused with Positive Energy and Consecrated with a special blend of Oils which I created and call Dragon Wood's. This blend consist of top notes of the following oils, and their metaphysical uses. Cinnamon Stick for Spirituality, Healing, Psychic Powers, Protection, Love and Knowledge. Dragon's Blood for increased power, purifying, protection, consecration, ritual energy, personal strength, and enhancing both the spiritual and physical well-being. Sandalwood for its highest vibrations of any oil that resonates with aspects of ourselves, Attracting the highest spiritual vibrations, opening the highest spiritual centres, aligning the chakras to enhance spiritual awareness, and allowing healing energies to flow. This purchase also will include a Basic Consecration process for beginners. Once purchased you will receive an email of the full process to properly consecrate your wand, plus a copy with your wand. SHIPPING: is based on other wands sold and shipped. Find more Wands, and Whimsical Accessories listed: http://www.etsy.com/shop/leighswiccanboutique?section_id=7373902 Or Visit my Vintage shop at: http://www.etsy.com/shop/mandileighs
MandiLeighs
discovered 64 months ago
Links
Related Blogs
DIY Accessory - Wire Wrapped Ring

Here is a great idea for accessorizing your holiday look with a unique stone ring made by whom other then €¦ you! These wire wrapped rings can easily be purchased at high-end boutiques for well over $100 dollars but why waste your money when you can customize your own pieces and become a designer without going to fashion school?Nothing feels better then wearing a wire wrapped jewelry piece knowing that you made it. It might seem a little complicated it's not! Follow the easy steps to make this stunning turquoise ring for yourself! Materials - - 2 ft of 22 gauge metal, silver, or gold wire, - 1 Semi- precious stone bead of your choice, - A ring mandrel €" used to form rings of your desired size - Wire cutter - Flat nose pliers - A good grip. Follow these easy steps -- Begin by wrapping one end of the wire around the Mandrel four times. - Keeping the wire band wrapped tightly around the ring form, string the bead through the long end of the wire and wrap it three times tightly around the 4-layered band, at the end closest to the beads hole.- Continue to wrap the wire four times beneath the stone, around the wire going through the bead. This will create a platform where the stone will sit.- Then, again tightly wrap the wire three times around the 4 -layered band closest the beads hole. - Finish by cutting the end of the wire and pushing it flat with your pliers so that it doesn€™t poke youBy the time you master this wire craft your hands will be blinging and you€™ll be in the market for a new jewelry box. With a little extra free time over the holiday break, explore you inner artist with this DIY idea!

Label Love: Sweetly Simple Sleepwear From STELLINA

by Ida Hsiang

We're always so worried about stepping out in the latest style of dress, or the new 'it' bag and we go through pains to make sure that our hair is coiffed in the latest style and our make-up is applied just right. It seems that we often overlook a just as important part of our day. Bedtime. If you think about it, we spend about half our day either asleep or lounging and why so many of us are satisfied to be wearing just an over-sized tee and and an ex's old boxers while doing so is beyond me. Now, there's a way to stay comfortable and carefree while having a casual night at home and in bed. Stellina is our answer to luxuriously soft sleepwear that's practical, comfortable and with just the right amount of sex appeal added in. While silk teddies and lacy undergarments are fun for that 'special' night, Stellina is perfect for every night with their sumptuously soft bamboo pieces and cotton pajama sets and bathrobes. Besides the high-quality, super soft fabrics (I love bamboo knits!), Stellina further enhances it's sleepy-time appeal with feminine pastel hues and cuddly whites and creams. Pieces hug curves in all the right places without being tight and low v-necks and scoop necks, as well as sexy hem lengths look sensuous while still providing enough coverage. So put away that ratty flannel sleep shirt and click on the slideshow to see Stellina's must-have sleepwear pieces!