1960s Vintage Bikini Bra Set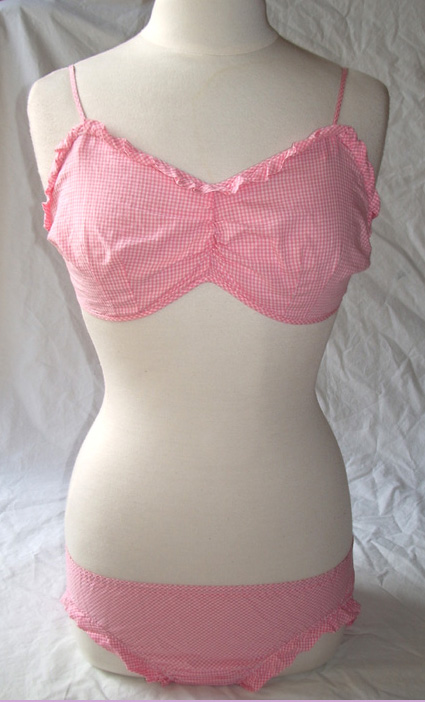 Cute pin-up girl vintage bikini bra set! Pink and white gingham with ruffles along the top and bottom. In great condition! Measurements: Bust - 28" when laid flat, but stretches up to 34" comfortably. Waist - 20" when laid flat, but stretches up to 28" comfortably. Hips - up to 37"
missvintagelove
discovered 54 months ago
Related Blogs
Hot In The Hive: She Hit Pause Studios Pin-Up Girl Photos By Matt Schwartz

Today's pin-up girl isn't posed. She's not perfectly manicured, makeup-ed and primped. She's not innocently provocative, but casually provocative. She's unknowingly gorgeous, yet very sure of herself. She's playful and shameless. Being naked clothed, or covered in gumballs is all the same to her. She sees both sunshine and rain and is just fine being in either one. She's not always happy, nor is she always sad, but she's beautiful no matter the mood. Thanks to original Matt Schwartz's Polaroid snapshots that he captured for She Hit Pause Studios, today's pin-up girl is ours to admire. The images are such true artistic reality that no matter how raw it seems for her to be lying naked alongside a mirror, or how insignificant she seems as her head bobs out of a massive pool of dark water, she's still virtuous, flawless, robust. Enjoy the dynamic display of Schwartz's latest collection of today's pin-up girl in this slideshow and pick up a few prints for contemporary, femme-foward home!Price: $65.00 eachWho Found It: kelojif was the first to add Matt Schwartz's photos to the Hive

Take A Look At The Pin-Up's Character Grid, Then Make Your Own To Win $200 From ALDO!

Think you've got style like the Pin-Up? She loves a look that's flirty yet completely classy, and she's all about pieces that have a vintage feel with a fun updated twist. For summer, she's loving this gingham dress with its sweetheart neckline paired with classic patent pumps in a nude shade that's totally now, and her retro-chic look wouldn't be complete without a pair of cat-eye shades! To get a better feel for her vintage-meets-modern style, check out her Character Grid (and check out the others too!), then make your own for a chance to win a $200 gift card from ALDO! Click over to the page, then make your own Grid of looks that reflects your own personal style and submit to enter! The winner will be announced on June 1st, so make sure the month ahead is your most stylish yet!